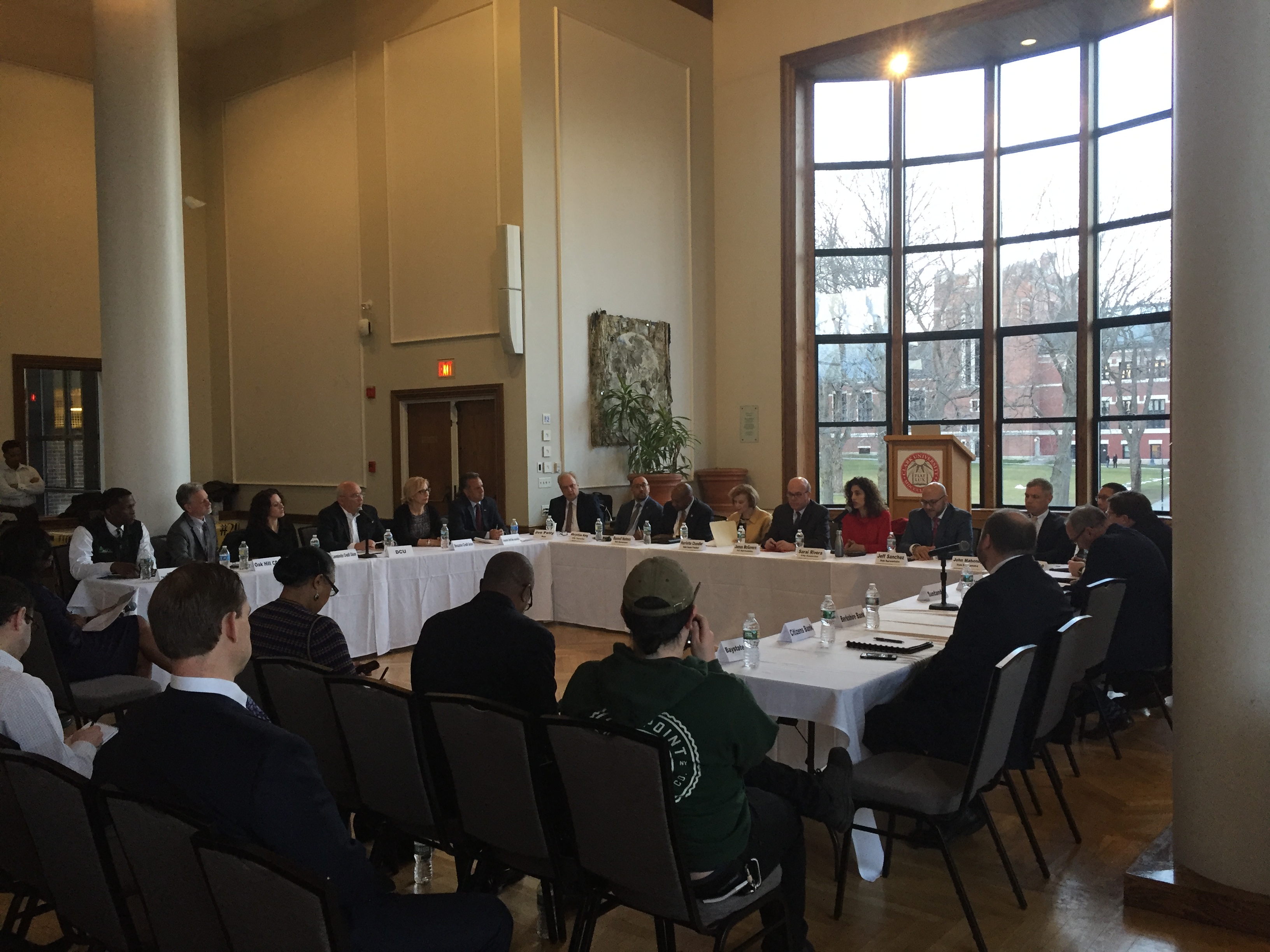 Photo by Bram Berkowitz, Banker & Tradesman Staff
By Bram Berkowitz
Banker & Tradesman Staff
Apr 8, 2018
There are vast differences between the local economy of Greater Boston and that of Central Massachusetts. But for those who struggle to engage with the banking system, the issues remain largely the same.
Worcester residents recently addressed a panel of local, state and national politicians, as well as representatives from large and small banks and credit unions. Although located 45 miles away, many shared experiences similar to those expressed by Boston residents a few months ago at a previous event, regarding access to capital through the banking system and navigating the perplexing foreclosure process.
In turn, the panelists connected with the community and heard firsthand what residents were dealing with in a city where many are unbanked or underbanked.
"When driving down Main Street from City Hall to Clark University, do you see any banks?" asked Worcester Mayor Joe Petty. "Probably not."
The event was the second public forum in the statewide initiative "A Dialogue on Banking," coordinated by Communities of Color in partnership with the Massachusetts Joint Committee on Financial Services.
Communities of Color intends to convene panels all over the state on ways banks and credit unions can better interact and work with underserved neighborhoods that may have a lot of unbanked or underbanked residents. The organization then plans to put together a report to present to the Massachusetts Joint Committee on Financial Services.
Foreclosures and Check Cashers
According to Petty, 30 percent of residents in Worcester are unbanked, compared to just 5 percent statewide. The city has also been hard hit by foreclosures during and after the financial crisis.
According to analysis from The Warren Group, publisher of Banker & Tradesman, while foreclosure deeds decreased in the commonwealth from 4,138 in 2016 to 3,837 in 2017, they increased in Worcester from 168 in 2016 to 181 in 2017. Deeds filed are the final step in Massachusetts' lengthy and complicated foreclosure process.
While petitions and auctions in Worcester were both down between 2016 and 2017, both categories saw fairly significant increases between 2015 and 2016, according to The Warren Group.
A number of Worcester residents are still dealing with the fallout from the financial crisis.
Kenyan native Esther Ngotho said received a mortgage from Wells Fargo that was well beyond her means and used her home in Kenya as collateral, which she sold to a person in New York when she moved to the U.S. At the time, she was earning $600 per week. She has been fighting Wells Fargo ever since.
"Some of the bigger banks in this country screwed a lot of people," said U.S. Rep. Jim McGovern of the Second Congressional district of Massachusetts.
State Rep. Russell Holmes of the Sixth Suffolk District asked representatives from banks and credit unions if they could in the future provide an estimate of how many bad loans are still on their books from the financial crisis.
Through a translator, resident Nguyet Tran said a judge in foreclosure court refused to let her speak during her court proceedings because she could not speak English.
Grace Ross, Tran's translator and a member of the Worcester Anti-Foreclosure Team, said she has been extremely frustrated with what she has seen in foreclosure court.
Not only have people been denied the chance to stand up for themselves, said Ross, but lawyers for the banks are taking advantage of the system, even allegedly forging documents.
"Judges are ruling against people for files they've never seen," she said, adding that the Worcester Anti-Foreclosure Team is in the process of filing complaints.
Another attendee, Robert Toms, challenged panelists on the notion of check cashing businesses and why, despite dire warnings, people in underserved areas resort to them over banks.
"In certain neighborhoods, we use check cashing places because they are in the neighborhood," he said. "Why doesn't someone open a bank in the neighborhood?"
At the Table
Tim Burrell of Citizens Bank, which has 30 percent of its branches in low- to moderate-income areas, said with the future of banking so uncertain, it's a real challenge to figure out the best way to serve customers.
Gwen Robinson, managing director of corporate social responsibility at Santander, agreed with Burrell, saying she thinks that banks need to figure out how to best reach customers, whether through physical branches or digital products. Just having a bank presence doesn't necessarily guarantee access, she said.
Despite the struggles in previous years, many at the event representing financial institutions seemed to agree on many of the challenges ahead, and expressed an eagerness to address them.
"There are some trust issues. Some don't trust a regular financial institution, whether somebody had a bad experience, or they might think it's a payday lender," said Paul Gentile, president and CEO of the Cooperative Credit Union Association. "We are passionate about trying to get people away from payday lending."
Gentile said many credit unions offer a payday alternative lending program, where the maximum fee someone would have to pay is $20, which he said is unheard on those types of loans.
Citizens has a diversity program to help minorities and veterans, while Santander is starting a diversity program.
Robinson said the bank is also piloting a small business program that provides small capital grants to organizations such as Commonwealth Kitchen, which provides business assistance to help aspiring entrepreneurs build great food companies.
"I am so proud," said Worcester City Councilor Sean Rose. "We are not afraid to have the conversation."
But perhaps more importantly, as State Rep. Jeffrey Sanchez of the 15th Suffolk District pointed out to the banks: "I don't think I have ever sat at a table where all of you are so well represented."