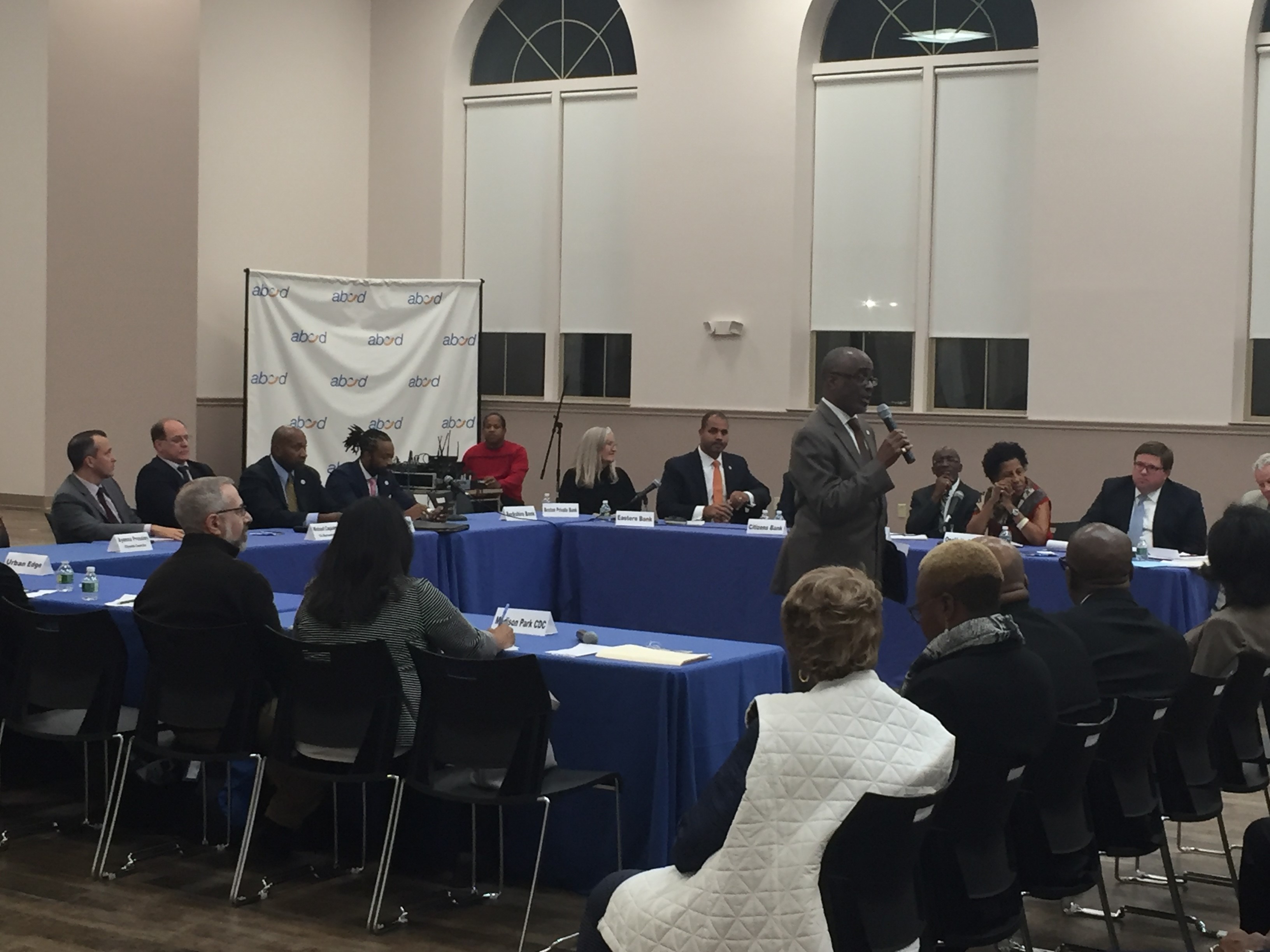 Photo by Bram Berkowitz, Banker & Tradesman Staff
By Bram Berkowitz
Banker & Tradesman Staff
Jan 28, 2018
Banks and credit unions in Massachusetts are coming off their best Community Reinvestment Act performance since 2014, according to a review by Banker & Tradesman of monthly activity reports posted by the Massachusetts Division of Banks.
Four of the 30 banks and credit unions that have been graded so far for 2017 received an "outstanding," the highest possible CRA rating. In 2014, there were also four banks that received "outstanding," but that year 49 banks were graded. 2017 data is likely incomplete; more outstanding grades are possible.
While the better grades certainly show incremental improvement, they are likely more attributable to the strengthening economy than to a significant shift in CRA practices.
"We were trying to figure it out, too," said Jon Skarin, senior vice president at the Massachusetts Bankers Association, referring to the improved grades. "When the economy is doing better, it makes some things more viable from a community development perspective."
The Community Reinvestment Act, enacted by Congress in 1977, is intended to encourage depository institutions to help meet the credit needs of the communities in which they operate, including low- and moderate-income neighborhoods.
The Massachusetts Division of Banks grades financial institutions on three main areas: lending, investment and service. There are five different levels of grading for each category, from substantial noncompliance, the worst grade, all the way up to outstanding.
Financial institutions under $1 billion in assets are examined by the Division of Banks once every 18 months, while banks over $1 billion assets are supposed to be examined every 12 months, although Skarin said examination schedules can vary depending on how busy the division might be in any given year.
Financial institutions graded by the state typically receive a CRA grade from a federal agency as well.
Finding Success
Darryl Smith of Communities of Color, a community engagement initiative that focuses on banking and CRA in underserved neighborhoods, said he thinks banks have been able to better hone their CRA plans, concentrating on practices such as small business lending, branch presence and home lending.

"There has been a theme of trying to work with more community advocates," he said.

For example, last October Communities of Color hosted a meeting that brought together local bankers, public officials and federal regulators to hear the grievances of residents from communities where gaining access to the banking system can be difficult.

"We wanted them to understand where these people are coming from and make adjustments," said Smith, adding that local banks have also done a good job of providing philanthropic assistance to nonprofits over the years. "Banks need to continue to work very closely with community advocates. … The better they work with the community, the better their rates will become."

Orleans-based Cape Cod Five Cents Savings Bank has had success with this strategy. The bank received an "outstanding" grade in 2014 and 2017, per the Division of Banks. Cape Cod Five has received nine straight "outstanding" grades over the last 20 years, said President and CEO Dorothy Savarese.
According to its 2017 evaluation, Cape Cod Five originated 320 small business loans totaling $62.4 million in 2015, and 312 small business loans totaling $62.1 million in 2016. In moderate-income areas within its assessment area, Cape Cod Five had 12.5 percent market share for home mortgage loans, according to the evaluation.
Savarese said the bank partners closely with MassHousing to serve low- to moderate-income populations, and has designed products specifically to make more credit available.
But more than that, the bank is actively pushing those products by partnering with organizations such as Habitat for Humanity and the U.S. Department of Agriculture; it also has specific advertising for the products it originates in partnership with MassHousing.
"For us, (CRA) is just an extension of who we are and what we do," said Savarese. "Working with housing finance agencies, nonprofits and other quasi-public agencies has worked very well for us."
Room for Improvement
Despite the marginal progress, with only four outstanding grades, there is still a lot of work to be done in the CRA space.
Housing affordability is at the root of the problem in the Boston and Greater Boston areas, Skarin said; it has gotten so expensive that even with help from MassHousing programs, the cost is still out of reach for low- to middle-income populations.
The MBA feels there is a lot that could be improved from a public policy perspective.
"The world is not the same as it was 10 years ago," he said. "Institutions are now lending in areas that they don't have branches in. There are a lot more out-of-state vendors. What is the best way to measure the Community Reinvestment Act going forward?"
In terms of improving lending in low- to moderate-income areas, Attorney Joseph Feaster of McKenzie & Assoc. said education and awareness is critical not just for banks, but also for their customers, adding that he sees too many people using check cashing stores.
A plethora of programs and products exist to assist low- to moderate-income people, he said, "but you don't see promotion around those."