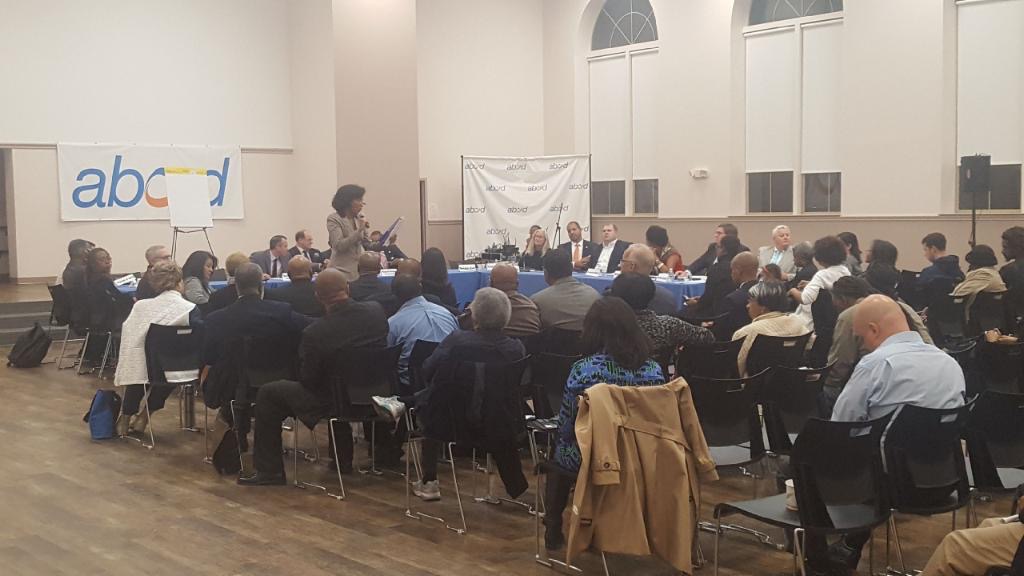 On October 18th, Boston Communities of Color hosted a statewide community engagement initiative entitled "A Dialogue on Banking" in Roxbury.
Local bank officials from Bank of America, Berkshire Bank, Citizens Bank, Eastern Bank, OneUnited Bank and Santander joined state regulators, elected officials and community stakeholders for a great discussion.
"A Dialogue on Banking"
Hosted by Boston Communities of Color
October 18, 2017
Joseph Feaster – Moderator
Bishop William Dickerson – Opening prayer
Thelma Burns – Welcome
City Council Preident Michelle Wu – Inequities in wealth and opportunity
City Councilor Ayanna Pressley- Ordinance on procurement reform in the City of Boston
Charlotte Golar Richie, Moderator
Assessing the success of CRA
Panel in attendance
US Rep Michael Capuano
State Rep Aaron Michlewitz
Rep Russell Holmes
Rep Evandro Cavalho
Boston Councilor Ayanna Pressley
Banking
Kevin Kiley – Mass Bankers association
John Skarin – policy issues
Esther Schlorholtz – Boston Private bank
Quincy Miller-Eastern Bank
Timothy Burrell-Citizens Bank
Cornelius Prioleau –Century bank
Teri Williams – One United Bank
CDC
Jeanne Pinado Madison Park
Perry Newman– Dorchester Bay – small business lending
Gail Latimore – Codman Square NDC
Bob Credle – Urban Edge
Robert Torres – Urban Edge
Mimi Turchinetz – City of Boston Office of Financial Empowerment
Bank and Other Financial Representatives Present
Tim Delesio – FDIC
Anna Steiger – Federal Reserve Bank of Boston
Bonita Irving – OCC
Aida Franquiz – Boston Private
Sarah Lamite – Boston Private
Steve Roussell – Santander
Beverly Somerville – Dedham Savings
---
Watch Video from the Event
---
Questions in the Room
Marie Furman – Business-to-Business organization
19 business but does not have support for company. Feels like an outsider. Doesn't feel heard. Strategies to listen to community businesses. Provide services to navigate good business practices.
Pricilla Flynt Banks – Banks/CDC's help with supporting space and money to grass roots organizations.
Programs that can legally fix credits and scores. – Urban edge credit program class + Counselor
Masssaves.org . One United secured cards
Pastor Elsa –angry because of disrespect by the banks. Eastern – complain about disrespectful situations.  One untied – respect regardless of account balance. Public policy is not race based. Policy should focus on black inequality.
Rep Holmes -Information on foreclosures. Opportunities for neighbors/ neighborhood residents to purchase homes. First options for community members
Eastern – find ways to keep people from foreclosure, financial education.
BG Artist – Proper funding for community grass roots organization
Immigrant populations – Services to immigrant populations, understanding, small businesses owned by Somalia's. Understanding with language and community sensitive services.
Madison park supports through use of Hibernian Hall and outdoor festival serving Somali residents.
What is government doing to change the general situation in the community? Reparations?
CDC/banks project, action that come out of this meeting. What happen to the interest on security deposits for real estate?
Support non-profits Grass roots, low cost loans, credit repair.
Resource for Foreclosure prevention (credit counseling)
Affordability of housing. Madison Park down payment assistance program layering with down payment assistance program.
Seniors getting assistance to live in their homes. CDC lending
Technology in smaller banks – banks have to make it easier to do banking.
Banks need to think of ways to support the way low-income communities use services. (change, small transactions).