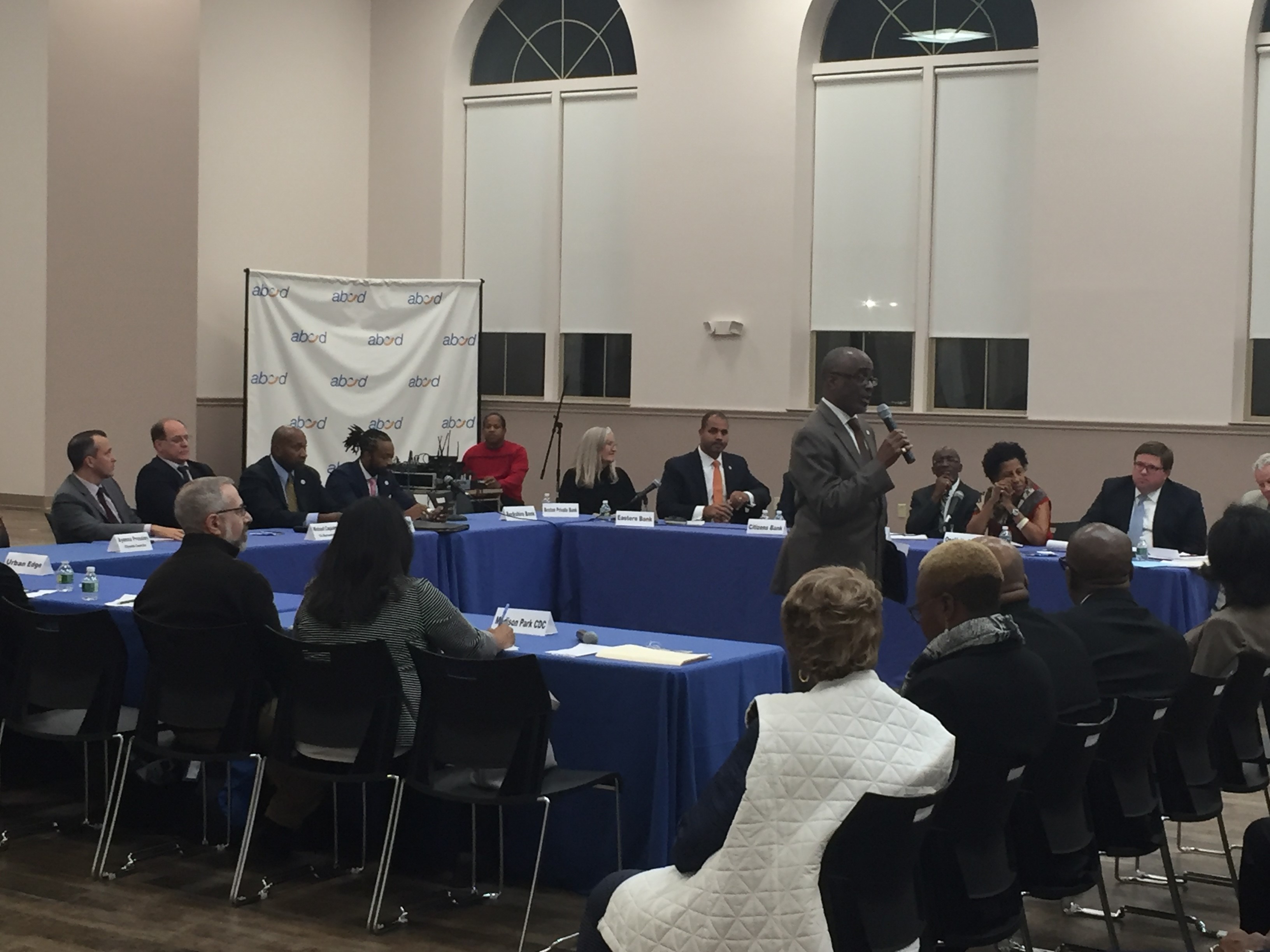 Photo by Bram Berkowitz, Banker & Tradesman Staff
By Bram Berkowitz
Banker & Tradesman Staff
Oct 29, 2017
Residents, politicians, community development corporations and employees of banks small and large came together at a recent event in Dorchester hosted by Communities of Color to discuss how banks can better interact with underserved communities in Massachusetts.
Politicians in attendance included U.S. House Rep. Michael Capuano, Massachusetts State Rep. Aaron Michlewitz, who chairs the Joint Committee on Financial Services, and State Rep. Russell Holmes.
Also in attendance were representatives from the Massachusetts Bankers Association, Berkshire Bank, Boston Private, Citizens Bank, OneUnited Bank, Eastern Bank and Century Bank.
While topics ranged from better education and financial literacy, foreclosures, development and the availability of financial products in underserved neighborhoods, respect proved to be a recurring theme throughout the night.
"Banks, when you walk in there, they look down at you," said a pastor from Dorchester. "I walked into Boston Credit Union, and my credit is good, but my income ratio is not so good. I asked to borrow $1,000 and they said no. They embarrassed me in front of my grandson."
"We talk about a lot of stats, but what is really being done to fix that?" added another resident. "We've almost really just become stats. How does this transcend beyond a conversation? The solutions are simple, but it's all a game."
Acknowledged Quincy Miller, president of Eastern Bank, "We have not done enough and there is definitely more we need to do to support our communities."
Education Makes The Difference
Officials and representatives said they want to provide more education, while also getting the word out about services that already exist.
For instance, Boston's Office of Financial Empowerment, launched by Mayor Marty Walsh in 2014, offers several resources like credit building and free tax preparation – but not nearly enough people know about it, said Assistant Deputy Director Mimi Turchinetz.
Holmes said his constituents needed to figure out how to get information on a home when it is being foreclosed on because investors are coming into neighborhoods and taking control of houses quickly.
"It's not what to do when a house is foreclosed on, but we have to solve the root of the problem that led the house to get foreclosed on and that comes with education," said Miller. "We need to find ways to make sure we can keep people in their houses. Once it's on the market, the bank has little control of who can purchase it."
Another issue raised was about loan modification for homeowners piling up debt on a mortgage.
While state law requires banks to work with people to avoid foreclosures, and homeowners have 150 days to cure outstanding debt, attorney Joseph Feaster of McKenzie & Assoc. said many residents in underserved areas are using mortgage companies out of the state.
"When you are trying to deal with a mortgage broker in Tennessee and California, they are not concerned with 150 days," he said. "We have to develop a program from the standpoint of getting more mortgages based at institutions here."
Jeanne Pinado, CEO of the Madison Park Development Corp., said she sees many residents in Roxbury choosing to pay rent through check cashers as opposed to banks, and she thinks one reason may be because of the outdated branch.
"I think the majority of banks think of branches generically," she said, challenging the banks to tailor one that specifically fits the needs of a neighborhood such as Roxbury. "You need people that are more concierge in there. Beef up staff when the line is out the door. Have one or two tellers that are bilingual [and] invest in higher level equipment."